Clinehens Organic Farm
Shelby County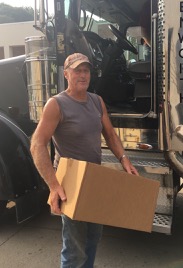 Chris and his children Ginger and Chet grow all the Organic Corn in Original and Black Bean Tortilla Chips and Cornbread Minis. Chris, the first farmer to take an interest in our work after tasting some of the Black Turtle Beans from our 2009 market test plots, decided to "give them a try." Three years later, he had gone from a seven acre "experiment" to more than 60 acres. The father of two, Chris is a third generation farmer, who started transitioning his 250 acre farm in 1994. And, in the off-season, Chris has been known to demo our chips at stores near his farm, joining us at the OEFFA conference in Dayton, and visiting Athens County to deliver corn, grab a meal at his favorite restaurant, Casa Nueva, the first restaurant to serve our beans, chips, and tortillas. Clinehens Organic Farm is in the region of the Hopewell, Myaamia, and Shawnee Nations' ancestral lands.
---
Tom and Mary Klein & Sons Organic Farm
Wyandot County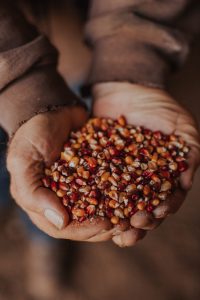 Tom and Mary make the distinction that organic farming is a cause. And that's why they are among a few farmers out there who are devoted to growing landrace (heirloom) crops, like Wapsie Valley Heirloom Corn, which we grind into our Grits, Polenta, and Corn Meal; the Red Fife Wheat ground into our Flour and Cereal, as well as Einkorn, Spelt, and Emmer. The Klein family has been growing grains and beans on their family farm for 20+ years, on the ancestral lands of the Myaamia and Peoria Nations. Both Tom and Mary served in the Peace Corps in Malaysia. They have three adult children
---
Hershberger Family Farms
Morgan County

Father and three sons each have their own farms situated on the ancestral lands of the Shawnee, Hopewell, and Osage Nations, where they farm exclusively with horse-drawn equipment. The Hershbergers have grown Shagbark's Heirloom Popcorn, a mainstay at the Athena Cinema in Athens, without chemical inputs since 2011.
---
Kneuven Organic Farm
Putnam County

Scott Kneuven and family's farm is on the historic lands of the Myaamia and Peoria Nations, where they produce milk and dairy products as well as grain and flour. The Kneuvens grew our Red Fife Wheat in 2021.
---
Mac-O-Chee Valley Farm
Logan County

Alan and Tisha started growing Organic Buckwheat for us in 2019 and have been farming their 83 acres under organic certification since 1990. They also grow corn, oats, and alfalfa, and raise beef cattle. Mac-O-Chee, which means, Smiling Valley, is the name the Shawnee, used for that area of Logan County, where the Mad River runs, one of the only rivers in Ohio that have habitat for fresh water trout. The farm sits on ancestral lands of the Shawnee, Hopewell and Myaamia Nations.
---
Paynter Family Organic Farm
Crawford County

Dave Paynter and family grew Wapsie Valley Heirloom Corn for us in 2012-2013 on their farm that sits within the ancestral lands of the Kaskaskia Nations. Dave and Kathy, who both had grandparents that farmed nearby purchased their farm in 1988 and have built a real family farm raising crops and animals with their children and grandchildren.
---
Nourishing Meadows Farms
Darke County

Paul, Carol and their son, Brent farm 500 acres that sits within the ancestral lands of the Myaamia, Kiikipoi, and the Shawnee Nations. Their 100-head herdshare dairy, includes field crop rotations of buckwheat, grain, and beans. They have been growing Shagbark's Organic Black Beans since 2017 and have been certified organic since 1998. Paul tells us he's the fifth generation to farm here, and that they were all farmers back in Europe before that! When we asked him if he wanted to share anything else, he said, "It's great to know the people where your crop is being shipped and processed into food people enjoy."
---
Flathill Organic Farms
Seneca County

Greg Thomas and his son, Brandon, grew for our Organic Pinto Beans and Organic Buckwheat in 2018 and 2019. Their 29 acre farm is part of the original homestead farmed by Greg's parents and grandparents, on the ancestral lands of the Myaamia Nation. Thanks to his good friend, Tom Klein (see Tom Klein among our farmer descriptions, above), Greg decided to transition the farm to organic starting in 2016. Tom is credited with helping Greg see the benefits of organic production, which he says was obvious when he tasted his organic soybeans. "They were nothing like the GMOs growing nearby. Better flavor and good soil is what it's all about." We lost a great farmer when Greg died in January of 2021.
---
Andrews Organics
Defiance County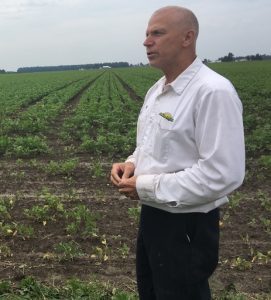 Ed Andrews of Andrews Organics grew Shagbark Organic Black Beans and Pinto Beans from 2015-2017. Ed, a fourth generation farmer, grew up working with his Dad, Eugene, and his Grandpa, Mills, both teaching him conventional grain farming. Their 1244 acre farm is within the ancestral lands of the Potawatomi Nation. In 2000, he started transitioning to organic, and by 2009, the entire farm was USDA certified organic. His two youngest sons still work on the farm when they aren't in school, along with Nathan and Joshua Jones, whose family has been integral to all farm operations since 2000
---
Mark Beaver Organic Farm
Marion County

Mark and Marilyn Beaver are both sixth generation farmers on the ancestral lands of the Myaamia Nation. The Beavers joined their family farms and grow organic grain--his a grain farm and hers a dairy--while living on the farm where Marilyn grew up. They started farming full time after Mark retired from work as an electrical engineer. Their two children and four grandchildren live nearby and their son-in-law also works on the farm. All but 15 acres of the 300 acre farm were certified organic in 2009. The Beavers grew all Shagbark's Organic Heirloom Oberkülmer Spelt from 2014-2016 from which we make Flour, Cereal and Pasta. They've also grown some of our Organic Buckwheat
---