About Us

Shagbark Seed & Mill has been offering Single-Source, Ohio-grown, Certified Organic Heirloom Grain, and Dry Beans since 2010. We are committed to connecting our region's family farms with restaurants, schools, bakeries, and home kitchens. And because we grind to order, we know you will taste the difference!

We are Certified Organic (by OEFFA). Farming under Organic Certification means active crop rotations, no petro-chemicals, no GMO seeds, and agricultural practices that build soil, support healthy ecosystems, and protect water. Our rock-bottom pricing to school and community food access programs make it possible to bring good food to school meals and food pantries.

Strong communities, clean water, healthy soil, good company, and great eating... Join us in the Staple Food Revolution!
---
What's Revolutionary About Starting a Mill?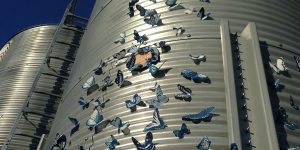 Well, quite a lot, it turns out. Back in 2009, we hadn't realized that, in every part of the globe, grain, bean, and oil seed represented for most of the world's diet, calories, nutrition, and cropland since agriculture began. In fact, the 2012 USDA Census reported that these crops accounted for over $131 billion, nearly eight times that of vegetables! Today, these crops don't have the flavor, nutrition or climate resiliency of heritage crops. Why? Milling and the growing of grain, oilseed and dry beans is the domain of large seed and chemical corporations that focus on yields, subsidies, and chemical resistance. The result? The healthy diet, genetic diversity, and cultural cuisine these crops have offered for millennia are absent from today's conventional crops. Instead we are offered chemical resistant and water hungry GMOs that leave a trail of barren soil, chemical toxicity, and dead zones in our most precious water resources.
---

What happened to local milling?

Nearly every town in the US has a Mill Road named for the mills that were once ubiquitous to rural communities. Then came the push for growing crop fencerow to fencerow, subsidies that favored high yields, and training the US shopper to expect food to be cheap. The result was the decline of small and midsize farms in the US and the two thirds world, where governments could not afford to subsidize the crops farmers grew; boarded up mills and seed cleaners; patented GMO crops; and subsidies in the the US and EU. We suddenly saw greater dependence on food aid from foreign powers and the declining health of US citizens, who now are more likely to battle with diet related illness and food insecurity due to highly processed, low-nutrition, cheap food.
---
The Road to Shagbark

Three years before we launched Shagbark Seed & Mill, in 2010, a case of existential anxiety begged the question, Why are grains and beans not part of the burgeoning local foods movement? That was 2007, when we saw that even the most robust farmers markets around Ohio and around the country, were missing local grains and beans.

After all, all our meals made from our visits to markets still required beans, a bag of rice, corn tortillas, a box of noodles, which all came from uncertain and distant origins. These foods provide dense packages of heart-healthy protein, fiber, energy, and nutrients, not to mention flavor and texture.
---
Phase One: Test Plots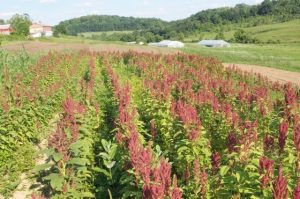 In 2007, our personal unrest led to a Small Farmer/Rancher Grant from USDA's North Central Region- Sustainable Agriculture Research and Education (NCR-SARE). We were set to test high nutrition bean and grain varieties potentially suited to Appalachian Ohio, and develop techniques suited to the small, irregular plots of the region. With borrowed land, tractors and implements, two seasoned veggie growers set out to learn about staple foods.
As word of our test plots spread, inquiries about buying our crops came in from as far away as Maryland. We scurried to submitt another proposal to USDA NCR-SARE, working with three local farmers to grow larger plots, test post-harvest processing equipment and assess local market interest.
---
Phase Two: Networks

By 2009, we had launched the Appalachian Staple Foods Collaborative (ASFC), and, with Rural Action as a fiscal sponsor, we received funding from the Sociological Initiatives Foundation to assess the network necessary to build a staple food system in our region.

The buyers, both in home kitchens and food service, were ready to buy, but the missing link was processing, not farmers with the know-how to grow what they knew they could sell. With the support of our community who fed us, counseled us and provided low interest loans when banks were dubious about our endeavor, Shagbark Seed & Mill was launched in 2010.

We've figured out how to run a seed cleaning and milling facility in tight quarters, how to be a workplace for employees, how to partner with farmers, and have the know-how for properly handling, storing, and processing grain, and how to keep books. And we have had to learn how to clean up a ton of spilled beans, literally!
---
Food Security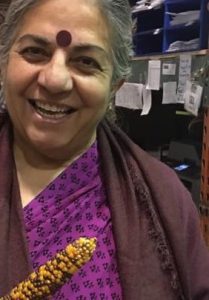 We've worked with area classrooms, food banks and pantries to find ways to bring good food to the folks who bear the greatest obstacles to healthy food, by developing a price class and donation program that gives food access programs rock bottom pricing, thanks to funding from the Wallace Center (pages 18-19), and partnerships with Community Food Initiatives, Live Healthy Appalachia, the SE Ohio Regional Food Bank, and regional schools and food pantries.
Want to "decommodify the commodities"? You can help make access to local organic grains and beans the rule, rather than the exception. Join our team, intern with us, or find your local food policy council to promote food access that's rooted in community, farmers' markets, and great school lunches!
---
What's Next?

In 2019, we received a USDA LFPP planning grant to make the leap towards a sustainable model for regional processing. Our vision is to build a seed processing center where many businesses from maltsters to tempeh kitchens, using organic crops grown in the region, work in an integrated facility with shared services, shipping and receiving and more!.

A dynamic regional network is necessary to attract farmers, seed cleaning hubs, flour mills, and the many interdependent enterprises required to reclaim staple food production. With the recent partnership with Rural Action's Sustainable Agriculture Program, ASFC's capacity can more effectively help reclaim staple food production for our region and regions everywhere.

That's what we mean by a Staple Food Revolution!