Posted on: Wednesday, September 5, 2018
The Athens population exploded overnight with Ohio University students arriving for college classes that started on August 27th.
Now, a table for a brunch date at Casa and Village Bakery involves a longer wait, Alden Library is once again populated at midnight by studying students, and parking spots have never been more rare. The late days of summer bring thousands of individuals to town to experience what makes Athens unique.
In a college town environment, food is a naturally important factor, and lends itself to obvious competition in visibility for local restaurants and brands. One of the interesting things about Athens, is the tendency of prior residents in helping initiate visitors and new students to food in the area from these local spots. There's a whole, closely-knit local food scene to be found in exploring Athens.
The power of word-of-mouth is apparent as we frequently hear about friends and family connecting others to the Shagbark products they love. We see this with visitors every Saturday at the Farmers Market when they bring guests to try our chip samples. We also hear stories about family members taking each other out for meals at local restaurants that serve Shagbark chips and tortillas, as well as students bringing their friends to local events and businesses that have Shagbark products available.
Overall, there are several locations that students and their families visit on a regular basis where they tell us about eating Shagbark's staple products. Local love for the Shagbark name has carried our products around town, out-of-state, and across the country on road trips. We've even had our chips served at weddings and conferences.
Wherever our products travel to, our base remains in Athens. For those who are here to stay for academics or those new to town in general, we highlight a few spots that are known crowd favorites for finding Shagbark products.
Well known for 80's night and it's open stage, Casa has been serving local food for decades, and has introduced many customers to Shagbark's original Corn Tortilla Chips, which marry well with Casa's house made salsas, but also operate deliciously on their own.
The Shagbark popcorn in the machine here is such a hit for moviegoers, that people stock up on our Heirloom Popcorn from local grocers for movie nights at home. We think it has something to do with the fluffy texture and kettle corn appearance.
DONKEY COFFEE

A popular coffee spot and open space for spoken words, you can grab a latte and our mini bags of original chips simultaneously for reading, studying, and meeting with friends and colleagues. Our chips are great with caffeinated beverages. Ask the 9 am samplers at our Farmers Market with cups of coffee in hand.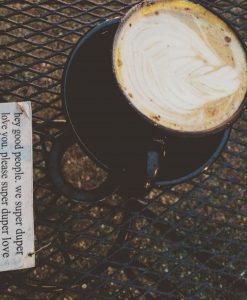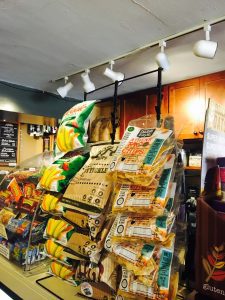 With a focus on local products, Village works to incorporate our organic black turtle beans into their black bean burgers and our four ingredient corn tortillas into their breakfast tacos. We would happily wake up for their crispy Heirloom Polenta slice, too.
Shagbark is featured on the menu served up in loaded nachos and tamales. The tropico salsa makes for a good combination with the crisp crunch of our original corn tortilla chips.
The Athens Farmer's Market food vendor is known for including our products in their tasty menu selection. We recommend it as a breakfast option to fuel your market finds on Wednesdays and Saturdays.
If you're not looking to trek into town for a sit-down meal, you can always purchase bags of chips and tortillas to use at your leisure at home…or eat all at once in a sitting. (We do it too.)
LOCAL STORES
Dale's BP Carry Out
The Farmacy
Seaman's Grocery
Village Bakery/Undercover Market
Kroger
Busy Day Market
Farmers Market (Saturday: 9am-noon)
Whether you're a student, visitor or local resident of Athens, you're bound to find us on your local menu and grocery shelf.
As many students will say as the weeks go on: "Athens is hOUme."
All of us at Shagbark can agree. We like to help it feel like hOUme too.