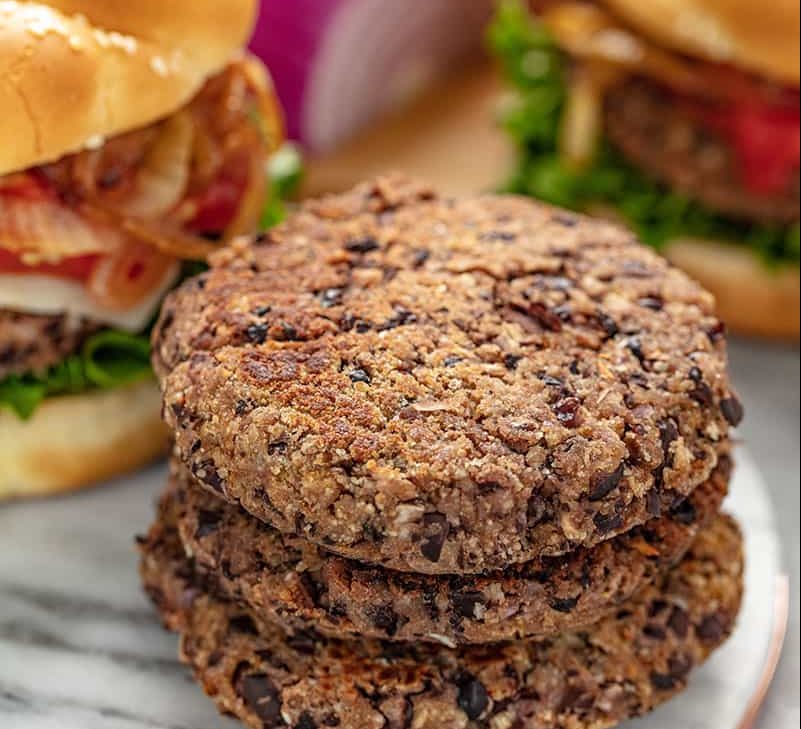 Ingredients
2 ½ cups black beans
Kosher salt to taste
2/3 cup spelt berries
1 TBS olive oil
2 small onions finely diced
½ tsp crushed red pepper
1 Tbl granulated garlic
1 1/2 tsp ground cumin
1 T Minors Chipotle concentrate
4 eggs beaten
2 cups panko bread crumbs processed
2 Tbl dried basil
½ cup fresh cilantro chopped
½ tsp black pepper
Method
Cover dry beans with at least 2 inches of water. Add a squeeze of lemon juice to soaking water to neutralize phytic acids. Soak beans in this lemon water for 8-24 hours.
Drain water from beans and rinse in fresh cold water.
Cover again with at least 1-inch water. and bring to a boil
Skim white foam from water. and turn down to a very low boil and let cook, covered for 1.5 hours.
DO NOT ADD SALT until done – otherwise you will have a tough, indigestible bean.

When the beans are tender, season with salt and let stand for 5 minutes: drain and put in large mixing bowl.

Heat 1 TBS of olive oil in saucepan; add spelt grain and sauté for 2 minutes then add 3 cups of water and a pinch of salt and bring to a boil. Cover and simmer until the grains are al dente, 30 minutes.
In a small skillet, heat the remaining olive oil, add the diced onion and cook over moderate heat until soft. Add the crushed red pepper, basil, cilantro, cumin, chipotle and garlic and cook until fragrant, 2 minutes.
In food processor, pulse all but 1 cup of the beans to a chunky puree; transfer back to bowl.
Fold in the remaining beans, the spelt, onion mixture, eggs, bread crumbs, basil, cilantro, pepper and 2 tsp of salt.
Form mixture into patties about 4 inches wide and 1 inch thick, use a biscuit cutter as a mold.
Put onto paper lined sheet tray cover and refrigerate until ready.